Surly recently announced that it is shuttering Brewer's Table forever. We loved our first meal there (FDC #24), so when we heard the closure news we knew…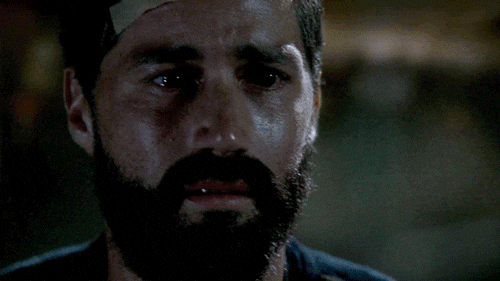 Matt, Chris and I (we were a brave threesome for this one) avoided the a la carte rookie mistake we made last time and each ordered the tasting menu with beer pairings. As loyal readers know we split everything at FDC, and we fretted over how to split the 4oz pairing pours three ways (was it was even worth it?) until our server did us a solid and gave us each 2oz pours of all the pairings. So for those counting at home, 2+2+2oz is 6oz for each pairing, which is 2oz more than typical, which means that's FREE BEER! (Industry insider perk! We're counting it.)
Our first course consisted of: Asparagus paired with Surly's Dampfbier, Octopus with Mole Smoke, and Aguachile with Xtra Citra. All three were excellent. The asparagus plate was beautiful and tasted fantastic, The tuna aguachile was bright and citrusy, which paired perfectly (surprise!) with the beer called Xtra Citra.
The Mole Smoke introduced earthy and smoky notes that complimented the meatiness of the octopus, elevating the flavors of both… And do excuse me, for now I must adjourn–my valet has prepared supper in the foyer.
Between courses, in the first of two Quotes of the Night (#QOTN), Chris delivered the type of hard-hitting criticism FDC is known for: "I wish they had 2oz glasses. It really takes me out of the experience when I have to drink 2oz pours in a 6oz glass…" A point Surly surely will consider for the last month of this restaurant.
In the second course we got huevos motuleños, with Witch's Tower. My notes say: "good. Swarthy koo."
Here's a giant, portrait-oriented video of us breaking the egg:
But we gotta talk about this tamale. Ho boy.
OK…
Please prepare for a lot of words on corn mush.
Are you ready?
Are you sure?
The tamale came out smelling like mac and cheese and tasted like the most delicate cornbread you've ever had. Granted, at $17 a la carte, it better have been a gold-crusted tamale. And actually…
I can still hear you saying, though, "No tamale is worth 17 dollars," to which all the restaurant's empty seats say "hold my beer." But I'm telling you, this was something else. It was the summer sun captured in corn. It was moist, soft enough to cut with a fork, yet firm enough to hold its shape when cut. (There were no loose crumbs to trap between fork tines for that one last "bite.") With hints of porcini, parmesan and chili pitching in just enough to give it an earthy, spicy, textured sensory fantasia, it absolutely sung. Chef Guzman put a childhood memory on a plate–whether it was his childhood, my childhood, or someone else's I'm not quite sure, but whatever it was, it was simply unbeatable. It was the reason four guys who knew squat about dining decided to try one new restaurant a month, why we've kept at it for almost four full years now, and why we've started dropping words like "earthy" and "elevated" and "Swarthy koo" into everyday conversation–for blissful moments like the two bites each we had of that perfect, exquisite tamale.
OK, end of rave on corn mush.
For mains, we got a Spanish style stew of chorizo, clams, prawns; lamb with Mediterranean flavors like labneh and falafel but for some inspired reason covered in a mole verde sauce that was, according to my notes, "rich" and "dino mite;" and a super tender bone-in duck confit with crispy skin that completely redeemed duck for me after a few recent disappointments.
They all came with slightly bigger pours of the paired beers, and this seems like as good a time as any to give you my unsolicited thoughts about pairings generally… Part of the mission of Brewer's Table is/was to take a familiar dining concept (wine pairings) and show that beer can provide an equally sophisticated experience. There are differences. Notably, many cicerones will tell you the great thing about a beer tasting rather than a wine tasting is that you get to actually drink the beer after you've tasted it, rather than the somehow more posh activity of spitting it into a bucket after swishing it around in your mouth. Yet–beer or wine–the term "pairings" itself connotes a bit of snobbery and pretension (please–join me for some pairings in my foyer), that arguably add unnecessary (and costly) layers onto a meal. So is the experience worth it? Or, can you get away with, as I was told once: "Is it something you like to drink with your food? Then it's a good pairing."
Answer: yes. Some of the pairings Brewer's Table presented felt forced and uninspired. But as I've grown more sophisticated in my own dining habits (foyer… Swarthy koo… enough duck dishes to have "a few recent disappointments"), I've been lucky enough to get to experience pairings that actually work: one part highlighting the other and bringing out flavors and textures that would otherwise be muted or nonexistent on their own. Exhibit A is the chorizo and clams/Nitro Cacao Bender pairing, the best of the night. The stew packed in so much flavor that a lighter beer would've gotten lost trying to compete with such rich food, and vice-versa. The velvety nitro pour of the Bender matched the smooth broth, almost trying to outdo each other in silkiness. Again, not every pairing was a winner, but the ones that did hit, like this one, will make me miss Brewer's Table, and appreciate good pairings, all the more.
We ended with a foie gras tart–foie gras not being a typical dessert food but in case you couldn't guess, obviously very delicious–and a chocolate wonder that came with our very own piece of the famous Aggro Crag from Nickelodeon Guts (and Global Guts)! Which led Chris to educate us on a subject dear to his heart that inspired #QOTN #2: "I've spent a lot of time thinking about Legends of the Hidden Temple strategy…" For the record, that surprised nobody.
So long Brewer's Table. We'll miss you.