FDC Supplemental #4, Part 2: Little Caesars Pretzel Pizza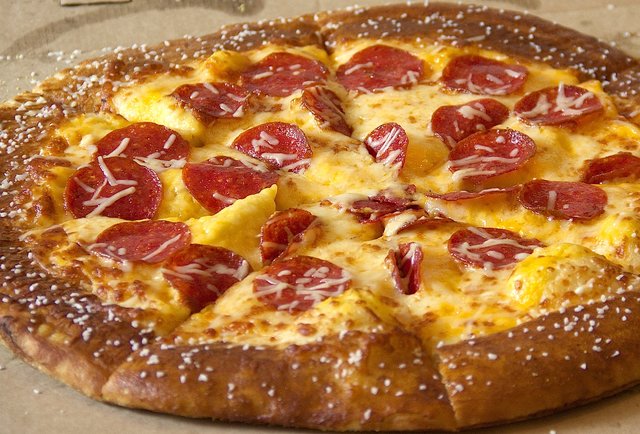 Rough week for Mike Ilitch. His baseball team was swept in the ALDS by the Orioles, and his new pizza is about to be personally panned by a food blog with tens of readers. Good luck with the Red Wings this year, pal, you're gonna need it.
The pizza I am referring to is Little Caesars' Pretzel Pizza. This pizza might be the most ridiculous thing I've ever eaten, and this is coming from someone who wrote an earnest review of Taco Bell's breakfast (twice). I thought the best way to explain what I went through was via the Stanecki-Eckes Model, or The Five Stages of Eating a Little Caesars Pretzel Pizza:
Confusion: I was so perplexed by what I was eating, I said "I need to write down my thoughts on this," hoping to sort through it all later (I didn't). The first surprise came with the first bite, when I realized they replaced the pizza sauce with nacho cheese. I am convinced the salt sprinkled on the pretzel crust was there to act as smelling salts to make sure patrons didn't pass out from that initial shock. It wasn't quite enough for me, as I needed a sip of my Arby's Crème Brulee shake (oh yeah, we got those, too (yes, that is also somehow a thing)) to bring me back to reality. It was then I felt a wave of…
Insanity: As I started on my second slice, I found myself laughing. I laughed while I ate. I laughed as I finished off the dry and salty crust. I laughed as I sat deep in thought, trying to make sense of the absurdity of what I was doing. And when the reality of my situation hit me, it led to…
Depression: This stage gets bumped up to #3 in this experience, because it is too much for any human to handle. I went back to watch the commercial for this "pizza", because I thought maybe the Bloomington Little Caesars made a mistake. Nope. Literally the first thing they do in the commercial is walk you through the construction of the pizza, including slathering on a thick layer of nacho cheese. They were so shameless about the whole thing. With great power comes great responsibility, Little Caesars. I thought it couldn't get any worse until…
Farting: I can say with extreme confidence that there is nothing quite like watching Broadchurch, a BBC drama about a murdered 11-year old boy, with uncontrollable gas. I was questioning my own mortality for a variety of reasons through this whole situation. Looking back, perhaps going on this adventure the night after being woken up with the worst acid reflux of my life was ill-advised and will probably lead to…
My Inevitable Death
After the night was over, I started to think that maybe things would have been different had I known what I was getting myself into. Maybe if I hadn't stopped to get Crème Brule shakes between Little Caesars and Chris' house. Maybe if I had re-heated and dipped the "pizza" into marinara sauce the next day like Chris did (I was all for destroying the leftovers). When it comes down to it, there will always be a place in my heart and the hearts of many Americans for an uncalled for fast food monstrosity. While curiosity reigns, Mike Ilitch will have us questioning, laughing, crying, and farting all the way to the bank.